7. Spinach and Feta Breakfast Burrito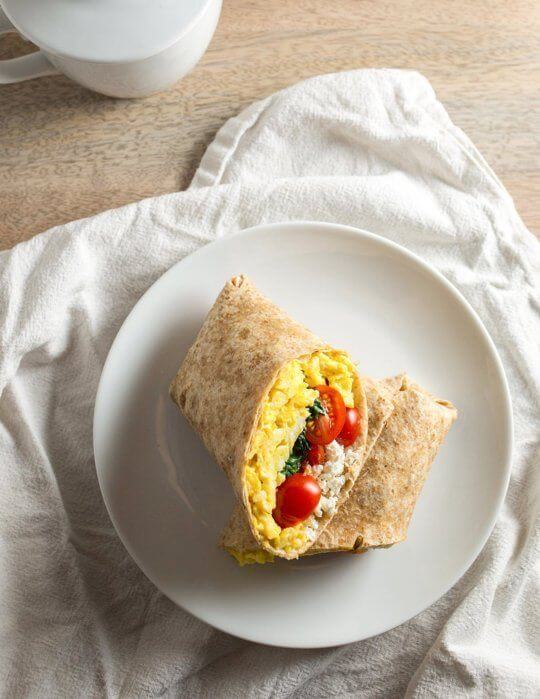 Ingreients:
1. 2 eggs
2. 1/2 cup fresh spinach, roughly chopped
3. 4 chopped Kalamata olives
4. 1/4 cup feta cheese crumbles
5. 1 1/2 tablespoons of butter, diced
6. 1 tortilla
7. salt and pepper to taste
Preparation:
1. Heat a small saute pan to medium heat.
2. Add 1/2 of a tablespoon of butter to the pan.
3. Let the butter melt and swirl it to coat the pan.
4. Scramble the eggs in a small bowl.
5. Add in the rest of the butter chunks and salt and pepper.
6. Add the egg mixture to the pan.
7. Let the eggs cook for a moment and then gently push them with a spatula to allow the raw egg to cook in the pan.
8. Just before the eggs are cooked, add in the spinach and combine until the spinach and egg are cooked.
9. Remove the eggs from the heat and lay them over the tortilla.
10. Top the eggs with the feta cheese crumbles and chopped Kalamata olives.
11. Wrap together and serve!
12. If you can then it may also be frozen and reheated!