Kesar Mawa Modak:
The Kesar-Mawa Modak is a very tasty and delicious modak and also popular in Western and Southern Areas. And it is a very easy and simple recipe.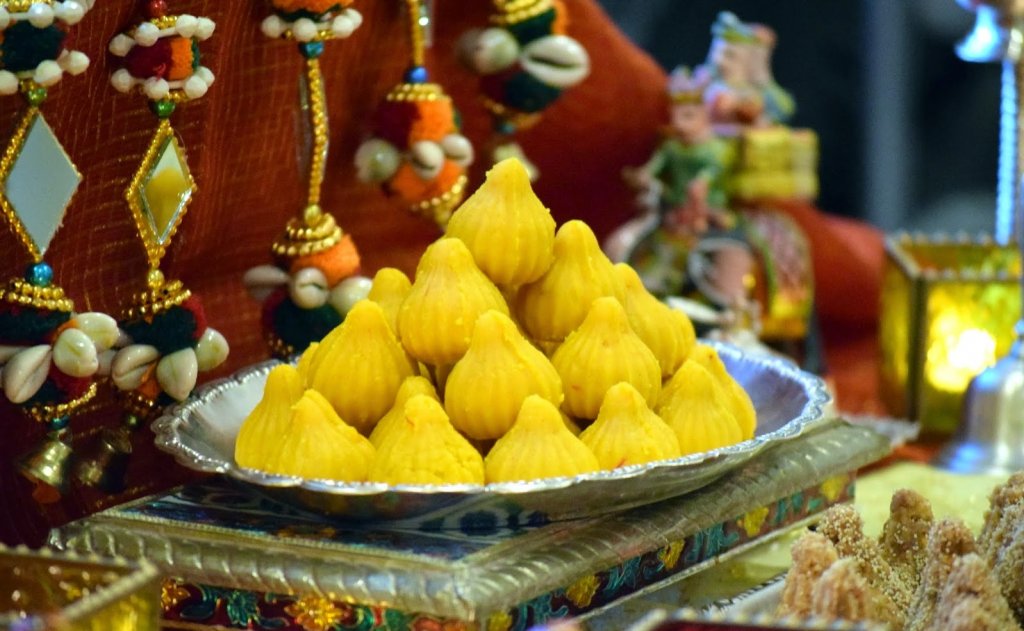 Ingredients :
1 cup Mawa(dried whole milk)
1/2 cup Sugar
2-3 Green Cardamom (powdered)
Few strands of Kesar(saffron)
2 tbsp Milk
Method:
Mash mawa and keep it ready. Remove seeds from the cardamom pods and crush it nicely.
Grease a square plate with some ghee and keep it ready.
Add few saffron strands in warm milk and keep it aside for 20 minutes.
Add mawa, sugar, saffron milk in a non-stick pan and mix it well.
Heat the pan and cook on medium heat. Keep stirring till the mixture becomes thick. Do not wait to completely dry the mix or it will harden.
Remove from the stove, add cardamom powder and mix it well. Spread the mixture on the greased plate.
When it cools down, take a portion in your hand and give it a modak shape using mould or you can also simply cut it into equal squares if you do not have modak mould available.
And finally, serve this delicious Kesar-mawa modak to Ganesha.
Ukadiche Modak(Coconut Jaggery stuffing Steamed Modak):
A modak is a sweet dumpling popular in Western and South India. The sweet filling is made of fresh coconut and jaggery while the shell is of rice flour. The dumpling can be fried or steamed. The steamed version is eaten hot with ghee.
Modak has special importance in the worship of the "Hindu elephant god, Ganesha". Modak is believed to be his favorite food and hence is also known as "modakapriya".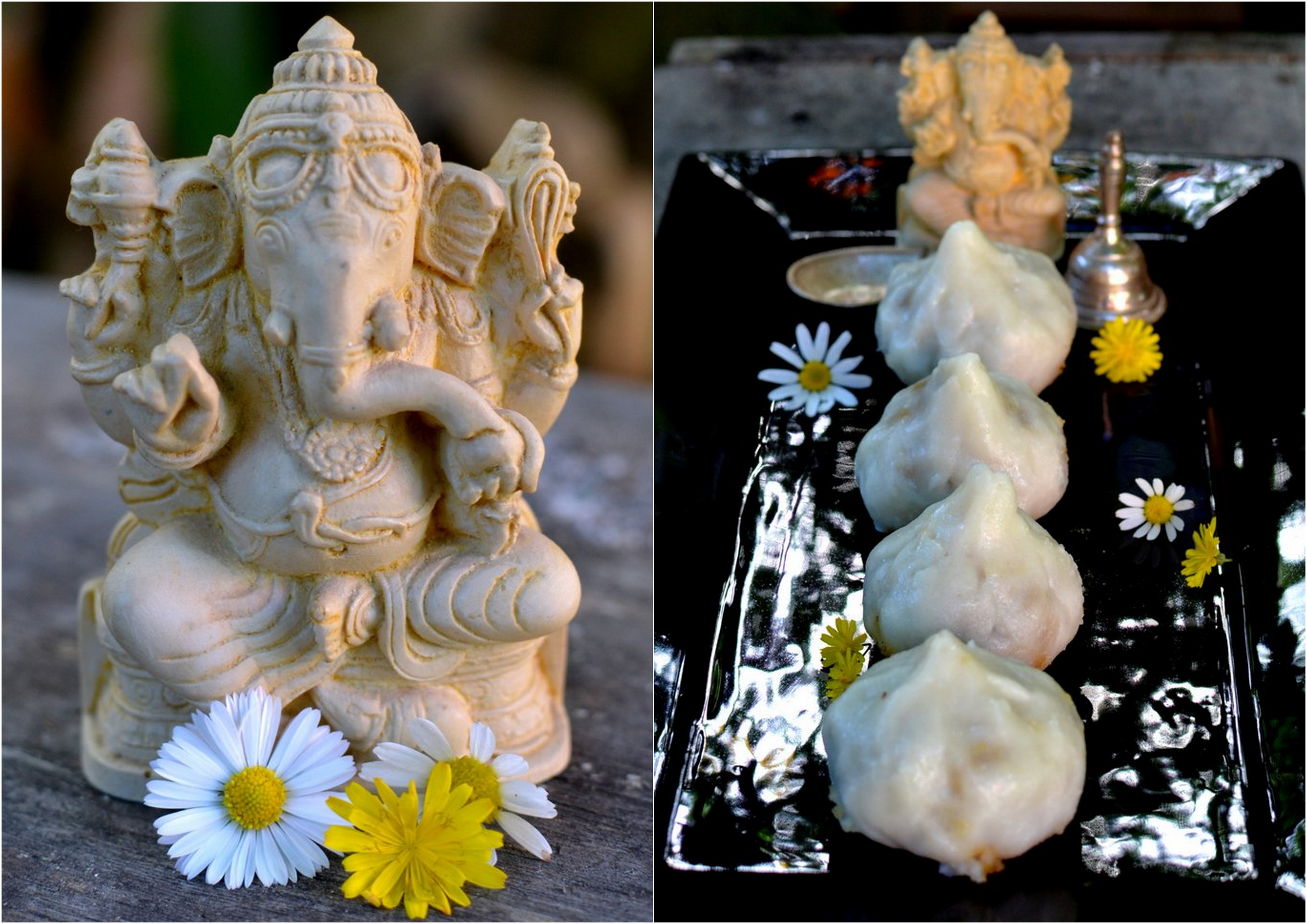 Ingredients:
For The Stuffing-
2 cups shredded fresh coconut
1 cup jaggery
1 teaspoon roasted poppy seeds
1 teaspoon rice flour
3-4 cardamoms
For The Dough:
1 1/2 cup rice flour
1 1/2 cup water
1 1/2 teaspoon ghee
1/2 teaspoon oil
a pinch of salt
Method:
To make the filling, combine coconut and jaggery and heat over medium heat. Keep stirring for 15 minutes until jaggery is completely melted and the mixture is moist.
Add cardamom powder, roasted poppy seeds, and 1 teaspoon rice flour to it. and cook for a minute. Avoid overcooking else the mixture starts drying out. This is called the stuffing for Modaks. Now turn off the heat and let the mixture cool.
Next step is to make the cover.For this, boil 1and 1/2 cup of water. As the water starts bubbling, turn the heat to low, add ghee, oil, salt and quickly add rice flour, stir well. Cover for 2 minutes. Remove the lid and mix properly. Turn off the heat.
Turn out the mixture into a deep plate, knead it properly while hot. Keep pressing the mixture into the bottom of a flat bowl to knead it. This releases the lumps easily as well as keeps your hands from burning. This mixture should be sticky to your hands. Gather into a soft pliable dough.
Divide the dough into equal sized balls.
With the thumb still inside and rest of the fingers pointing downwards along the outer side of the cup, gradually shape it into a bowl, alternately rotating between your thumb and the rest of the fingers until it is nice and thin. You may dip your fingers in water and oil to make the rotating easier. (Alternatively, skip this step and simply roll out the ball into a 3-inch diameter circle, hold it in your hand to form a bowl)
Spoon some stuffing at the center of the bowl.
Dip thumb and index finger in water and make small pinches side by side all along the outer surface of the bowl.
Gather the periphery at the top and join to form a peak. The pleated shape looks like a whole garlic.Trim off the excess part of the peak.
Similarly, shape rest of the balls. Dip the bottom of each modak into water (this helps to lift them out easily as they are done) and arrange them in a modak steamer. Steam for 20 minutes or until the cover is cooked through.
Modaks are to be served fresh with ghee on top and serve hot and tasty modak to Ganesha.
Coconut Rose Modak:
Coconut modak is specially made on Ganesh Chaturthi or Vinayak Chaturthi which is a very popular festival in India. Different varieties of Naivaidhyams are made during Ganapati Pooja. Sweet Modaks of different varieties are made and offered to Lord Ganesha. And this is an easy and quick method of making coconut modak.
Ingredients :
3 cup Desiccated coconut(Nariyal ka boora or burada)
1 tin Condensed milk
2 tbsp Milk powder
1/3 tsp Saffron
For The Stuffing-
5 tbsp Gulkand or rose petals preserve
3 tbsp Desiccated coconut
12 Chopped Almonds
1/3 tsp Cardamom powder
Method:
In a big bowl add desiccated coconut, condensed milk, milk powder and mix and mash well.
In a separate bowl add all the ingredients of filling and mix and mash wall.
Mix saffron with little water and crush to make a paste.
Now grease a modak mould and stuff the mixture and press it on all the sides of the mould.
Make a small ball from the stuffing mixture and stuff it in the center of the modak.
Apply some mixture from the condensed milk mixture at the bottom of the modak and press tightly.
Now carefully remove the modak from the mould.
Apply some saffron mixture and crushed coconut on the top of modaks.
Now offer these easy , tasty and delicious modaks to Ganesha.