How To Become A Medical Assistant? All About Medical Assisting: Education, Career Paths & Certification
All About Medical Assisting: Education, Career Paths & Certification
There's rarely a dull moment when you work as a medical assistant. Variety is a fact of life; the role involves a combination of administrative and clinical duties. You can expect a typical day to provide challenge, but plenty of reward.
Medical assistants are needed in all types of facilities and you'll be an important part of a healthcare team. You'll interact with everyone from patients to doctors to pharmacists. Here's how to become a medical assistant and a spotlight on what they do.
What Do Medical Assistants Do?
The role of a medical assistant is multi-faceted. You'll be responsible for using a wide range of tools and technology while interacting with all types of people.
Your tasks may be different if you work in a specialized area of medicine, but here's a list of the main duties you'll be expected to complete.
Main Tasks of a Medical Assistant:
Schedule appointments Manage medical records, billing and coding
Take vital signs Record medical history
Draw blood Administer medication under doctor's supervision
Prepare examination rooms Prepare patients for appointments
Arrange for hospital admission Perform diagnostic tests
Sterilize equipment
In addition to email and computer software, you'll need to know how to use specific medical equipment including needles, blood pressure units, nebulizers and ophthalmoscopes.
A day-in-the-life of a medical assistant might look like this:
Before Patients Arrive:
Organization is the first order of business when you arrive in the morning. You will review the day's schedule with the physician, complete any necessary paperwork and organize patient charts. It's also your job to prepare any examination rooms and refill supplies.
You'll also be responsible for checking phone messages and emails. Before patients arrive, medical assistants typically complete any administrative needs, such as sending a fax or email, for the doctors and nurses.
Patients Arrive:
The majority of your day will be spent interacting with patients. You'll greet them, enter any new information into their medical records, prepare them for their exam and schedule appointments.
Most medical facilities now correspond with patients using email or an online portal so you'll also be tasked with explaining test results and setting up appointments using these formats.
After each patient leaves, you'll clean the exam room, restock supplies and bring any specimens to the lab.
As you gain more experience and skills, you may find that you'll be tasked with more advanced responsibilities. The extent of what you're allowed to do will depend on state regulations, but here's a list of some of the possibilities:
Starting an IV and administering IV medication
Helping with clinical trials
Acting as OSHA (Occupational Safety and Health Administration) compliance officer
Managing and negotiating equipment and supply contracts
Conducting some lab testing
Creating fee schedules
With so many different responsibilities, medical assistants need to work well under pressure, communicate effectively and have good judgment. Although the workload will keep you busy, remember you're part of a team. Fellow colleagues and patients will depend on you.
End of the Day:
You'll wrap up any loose ends such as returning phone calls, completing paperwork and managing prescription refills. Medical assistants are also responsible for cleaning the exam rooms and sterilizing equipment.
Steps to Become a Medical Assistant: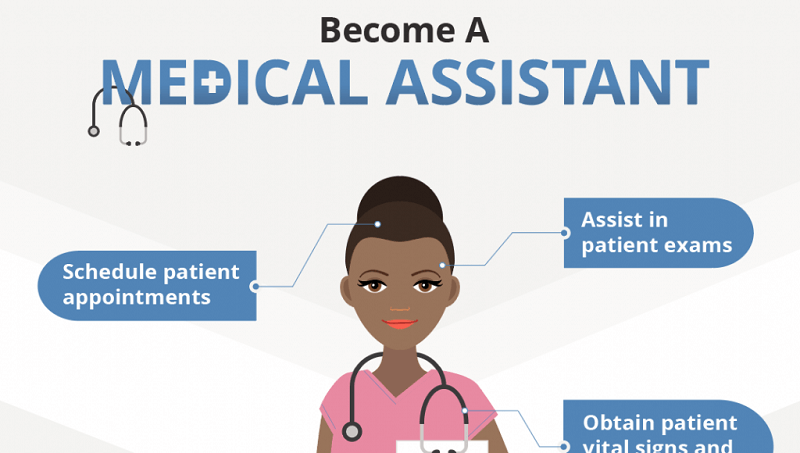 Unlike some healthcare careers, the steps to become a medical assistant are minimal. You'll need to complete an education program and earn professional certification.
In order to enroll in medical assistant school, you'll need a high school diploma or GED.
Step1-
As you begin your search for the right school, be sure it's accredited by one of the following accrediting agencies. Without accreditation, you won't be able to take professional certification exams.
Commission on Accreditation of Allied Health Education Programs (CAAHEP)
Accrediting Bureau of Health Education Schools (ABHES)
Medical assistant programs offer the choice of either certificates or associate's degrees. Your career aspirations should dictate the type of program you choose. For instance, if you're looking to enter the workforce sooner rather than later, a shorter certificate program may suit you best. On the other hand, if you have plans to pursue more education in the future, an associate's degree will provide you with a solid foundation.
The main differences between the two types of programs are length and curriculum. Graduating with a medical assistant certificate tells employers you received solid career training and hands-on experience. These programs tend to last between nine and 12 months.
An associate's degree takes about two years and provides you with both career training, hands-on experience and general education courses. Because your education is more extensive, you may have more opportunity for advancement or higher pay.
Step2-
In addition to classroom learning, medical assistant schools typically require their students to complete an externship.
An externship is a way to get clinical experience before you enter the working world. It allows you put your classroom learning to the test.
During an externship, you'll work with professional medical assistants and get hands-on experience in a real-life clinical setting. It's a time to ask questions, develop skills and make connections in the field. While hearing anecdotes in the classroom about difficult patients or challenging tasks may seem like enough training, only an externship will give you the chance to experience it first-hand.
Step3-
Technically, you don't need to be certified to work as a medical assistant, but many employers prefer it.
No matter which certification you earn (there are five to choose from), you will be required to pass an exam. You'll be tested on a wide range of topics related to medical assisting and earning your credentials tells employers you are knowledgeable about the field.