Are you also bothering from fat belly or want to get a flat stomach overnight? Then you are at the right place here we will let you know how to get a flat stomach overnight and also give 3 days flat belly detox reviews.
Almost everyone want to get a flat belly because due to eating junk foods and taking wrong ingredients in their diet result of that most of the people have a fat stomach. And the main thing is that in this busy world people haven't enough time to do exercise or yoga to get rid of their fat belly.
So, don't worry because her we will tell you the easiest way to get a flat belly in 10 days due to which you can get a flat stomach as soon as you've been started to follow this recipe. And trust me it is easy to make and you don't need any weird ingredients.
Here we will provide you an amazing recipe of detox water which helps in getting rid of the toxins from your liver and melt all the fat. Sounds Interesting….. Right!
It will not only give you a flat belly but also give a kick-start to your metabolism with a power-pack morning and a boost of energy.
Flat Belly Detox Water With Cucumber Lime Ginger Mint And Honey: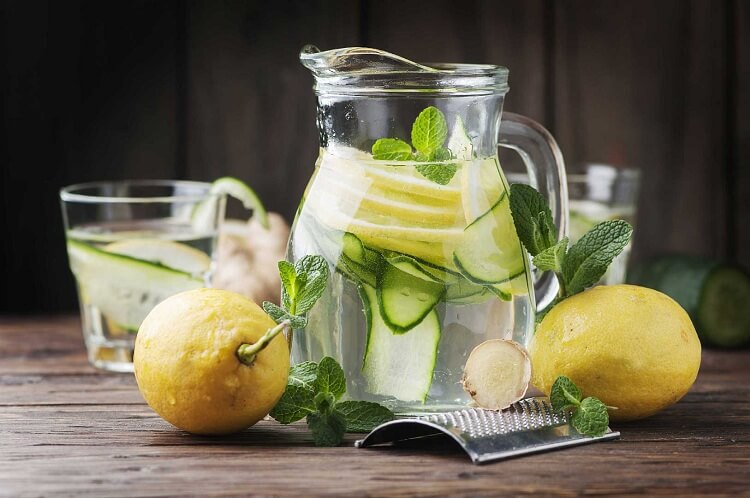 Ingerdients:
3 slices of cucumber
Half a lemon or lime
1/2 tbsp grated Ginger
3-4 Mint leaves
1/2 tbsp honey
Method:
The cucumber slices should be as thin as possible so that it can add more flavor to the water.
Squeeze the lemon juice in your cup.
Grate the ginger and add it in your cup.
Add Mint leaves for refreshing flavour to the drink.
Now add water to fill your cup. The water should be approximately 200-300 ml.
Add honey after adding the water and stir it all up.
How You Can Use It?
You should prepare this flat belly detox water before you go to sleep and leave it for overnight or you can also put it in the refrigerator overnight. And firstly drink it up in the morning in your empty stomach. This will give you awesome results as soon as follow this rule daily.
When you drink this first thing in the morning and keep it a 15-20 mins gap before eating your breakfast at that time you can finish your daily stuff. You can also fill this water in a bottle and bring it to your workplace or if you are travelling around constantly.
Why It Does Works?
In Ayurveda the ginger is said to ignite the fire for better digestion and a healthy gut. And also ginger is the main ingredient in it because it really boosts your metabolism up for the day.
Honey cleanses the gut and adds sweetness to conceal the taste of ginger.
Mint contains a lot of vitamins, minerals and anti-oxidants to improve your digestive power.
Lemon and cucumber maintains your metabolism throughout the whole day.
Note: But of course you should eat healthy because if you can eat junk food daily then it will not possible to get effective results. You have to tried it once you will really get most effective with noticeable results.
How To Get A Flat Stomach Overnight:
3 Day Flat Belly Detox Water:
Ingredients:
1 Cup Sliced Strawberries
1 Cup Sliced Cucumbers
2 Limes Sliced
1/2 Cup Fresh Mint Leaves
Water
Method:
Add all ingredients to a gallon container and infuse overnight.
How It Should Be Used?
Sip this for three days to relieve bloating and adding water when needed.
Last Words:
Hope you like this article! We'll surely add more information regarding the flat belly detox water reviews | 3 day flat belly detox and how to get a flat stomach overnight? And if you have some information regarding the detox water then share with us we will surely add your valuable information in our article.