A salad is healthy food and it consisting of small pieces of a various number of food including vegetables, fruits, cheese, cooked meat, eggs, and grains.
Garden salads use a base of leafy greens. Other types include bean salad, tuna salad, fattoush, Greek salad, and somen salad. There are a number of salads in the world which are all good for our health and fitness.
Here we discussed some healthy salad which is:
FRUIT SALAD-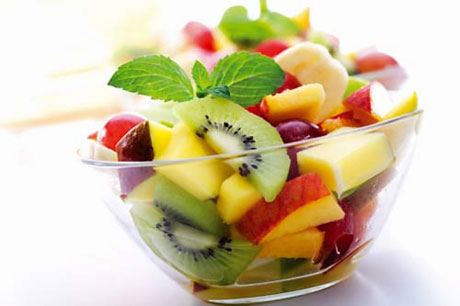 Ingredients:
6 sliced Bananas
1 sliced apple
4 peeled and sliced Kiwis
2 sliced in half-pints of strawberries
Instructions:
Wash the fruit thoroughly and slice it.
Then add it to a large bowl.
Mix by hand, and for a twist, sprinkle some lemon juice on it.
Chill and enjoy it.
MIXED GREEN SALAD-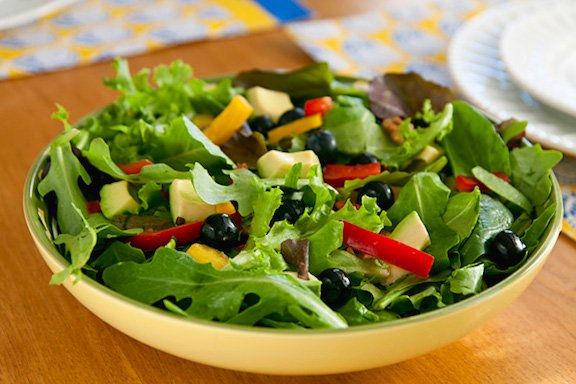 Ingredients:
2 to 3 ounces mixed baby greens
2 good handfuls of baby spinach or baby arugula
1 cup fresh blueberries
1 medium red bell pepper, cut into short, narrow strips
1 medium yellow bell pepper, cut into short, narrow strips
1/3 cup chopped and lightly toasted walnuts
2 medium firm, ripe avocados, peeled and diced
2 tablespoons olive oil, or as desired
2 tablespoons lemon juice, or more, to taste
Instructions:
Combine all the ingredients in a serving bowl and toss them together.
Cover and set aside until ready to serve.
CHICKEN & ROASTED PUMPKIN SALAD-
Ingredients:
800g butternut pumpkin, peeled, chopped
2 tablespoons maple syrup
1 tablespoon olive oil
1/2 cup walnut pieces
olive oil cooking spray
600g chicken breast fillets
100g spinach and rocket salad mix
1 red onion, thinly sliced
Mustard dressing-
2 tablespoons olive oil
2 tablespoons apple cider vinegar
2 teaspoons maple syrup
1 teaspoon wholegrain mustard
Instructions:
Preheat oven to 220°C/200°C fan-forced. Line a baking tray with baking paper. Place pumpkin, syrup, and oil in a bowl. Toss to combine. Place pumpkin, in a single layer, on a prepared tray. Season with salt and pepper.
Bake for 20 to 30 minutes, adding walnuts to the tray for the last 8 minutes of cooking, or until pumpkin is tender.
Spray a frying pan with oil. Heat over medium-high heat. Cook chicken for 6 to 7 minutes on each side or until cooked through. Transfer to a plate. Stand, covered, for 5 minutes. Thinly slice.
Meanwhile, make the Mustard dressing: Place oil, vinegar, syrup, and mustard in a screw-top jar. Secure lid. Shake to combine. Place pumpkin, walnuts, chicken, salad mix, onion, and dressing in a bowl. Toss to combine & Serve.
COTTAGE CHEESE SALAD-
Ingredients:
2 Lbs. Cottage large curd drained.
2 Cucumbers peeled/seeded and diced fine.
8 to 10 Red radishes diced small.
1 Pack of scallions sliced finely.
2 to 4 Stalks of celery skin peeled off and diced into small cubes.
1/2 to 1 cup cilantro finely chopped.
1 cup chopped walnuts.
A little bit of salt. Be careful with the salt there is salt in the cottage cheese.
Black pepper to taste.
Instructions:
Put the strained cottage cheese into a large bowl.
Add your diced cucumber and fold into cottage cheese with your Rubbermaid spatula.
Add your diced celery and fold it into the salad mixture.
Add your diced radish to the salad mixture and fold it into the mixture.
Add your sliced scallions and fold them into the salad mixture.
Add your cilantro now and fold it into the salad mixture.
Now it's time to add your walnuts to the salad mixture and fold in well.
Once this is all done your salad is technically finished.
You can put the salad mixture in the fridge to chill for a while.
Now cut up some veggies to stuff with the salad mixture.