Are you interested to searching out the best beaches in North Goa? Then you are at the right place, here we will tell you the full list of best beaches in North Goa and also quiet as well as less crowded beaches in Goa.

Whenever we are visiting Goa, all of us have in our mind are the beautiful scene of Goa beaches which offers us best sights to our eyes. You must visit North Goa beaches during your vacation, if you are thrill seekers. As we all know that Goa is the shoreline heaven of India.
You are thinking about why we only talking about North Goa? Here is the reason is that Goa is divided into two locals, i.e; North Goa & South Goa. North Goa is famous for its party spot where as South Goa is known for its peaceful environment. That's why the party lovers spotted at the North Goa and at its beaches. Now, North Goa inserted into a Western shore of India, because of that Goa shoreline are become popular throughout the world.
Best Beaches In North Goa: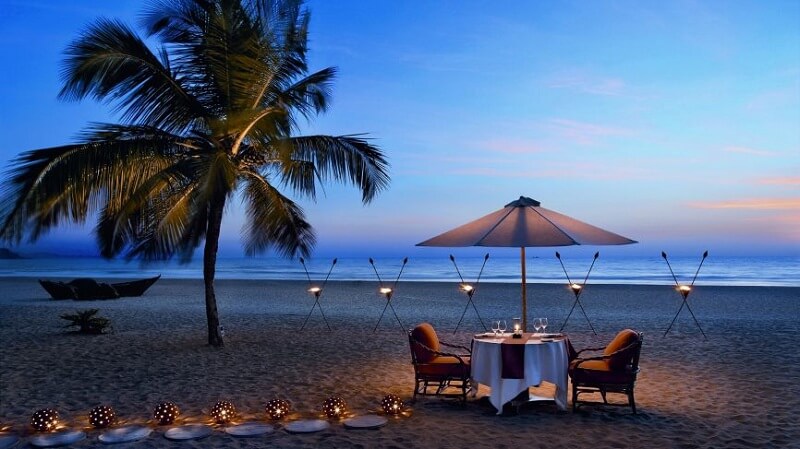 North Goa beaches offer the mesmerizing scenery and also the beaches famous for organizing the most happening parties in the town. All in all it can be said that these amazing beaches are for dancing, singing and dynamic merrymaking that will make your holidays memorable. That's why here we collect the most charming beaches in North Goa for your vacation.
1. Miramar Beach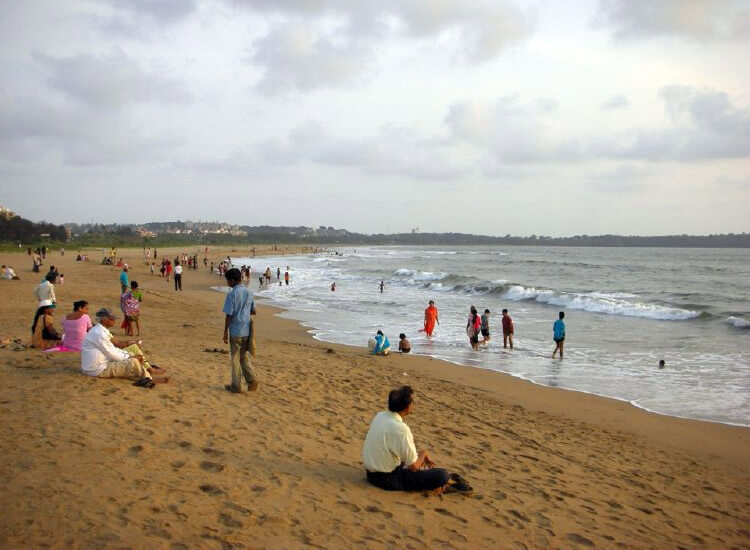 Miramar Beach is located about 3km from Panaji, and is a lovely stretch of beautiful glistening golden sand facing the azure waters of the Arabian Sea. Originally known as "Gasper Dias Beach", this is also the point where the Mandovi River meets the Arabian Sea. This beach is regularly frequented by adventure seekers, honeymoon couples and beach lovers.
During the nights, one can get a splendid view of the Aguada Fort from here. Besides, bird watching is a popular activity. The beach also offers a great opportunity to engage in dolphin sighting tours. Besides, the beach is lined with several resorts, hotels and guesthouses that provide a comfortable stay.
2. Calangute Beach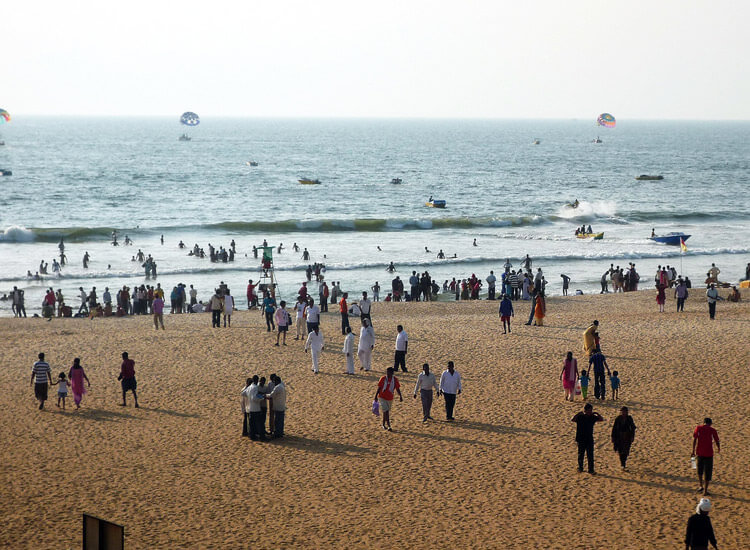 Calangute Beach, thronged by thousands in both peak and off-season, is one of the enchanting beaches in Goa. The sudden rise and fall of the waves here are a particular delight for experienced swimmers. Perhaps, the overall beauty of this beach, located 15km from Panaji, has led it to be termed as the "Queen of Beaches."
Moreover, its also one of the best beaches for swimming, and is always flooded during day time with both tourists and locals looking to have a good time. Several souvenir stalls, shacks and other stalls selling everything from trinkets, beer and pawn line the beach.
3. Baga Beach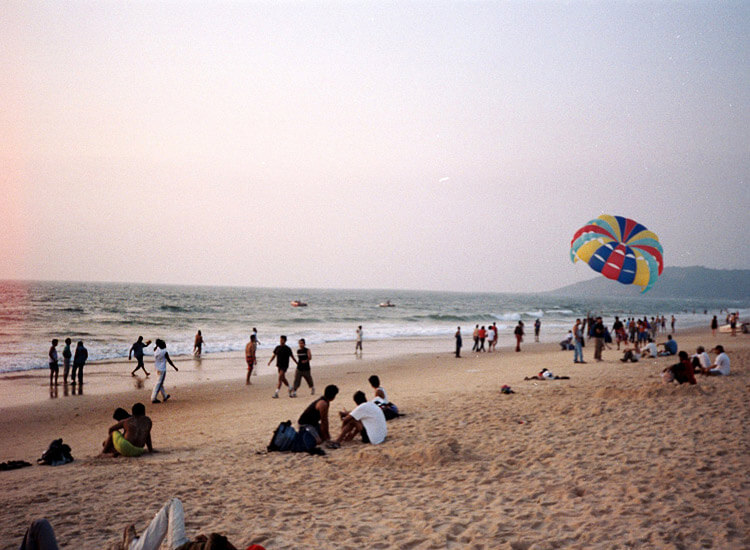 Baga Beach, another favorite with the locals and tourists, is located about 30km from Panaji, and lies in close proximity to the Calangute Beach. This beach offers mesmeric views of sunsets and sunrise. However, the main attraction of this place is its happening nightlife, and attracts some of the most famous clubs like Titos, Brittos and Mambos.
During the evenings, the shacks here come to life with foot-tapping music, dance and a general scene of merrymaking. Besides partying and celebrating, this beach is also the hub for various adventure sports like parasailing, jet skiing, boating and banana riding.
4. Sinquerim Beach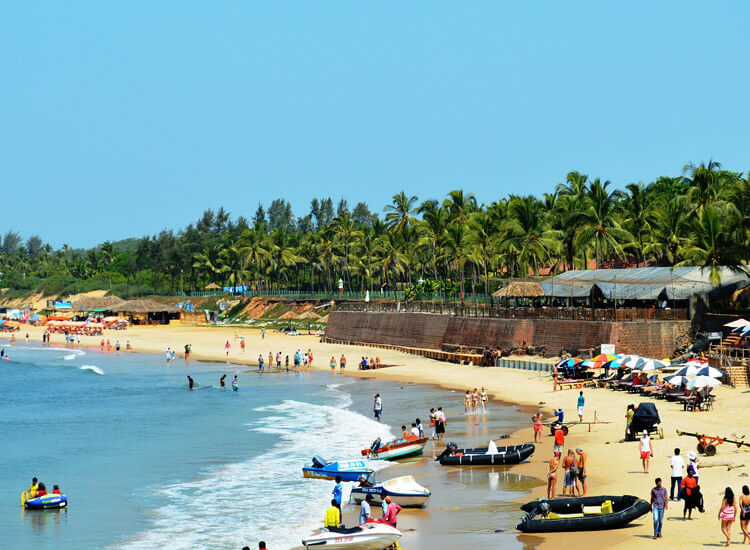 Sinquerim Beach is counted among the best beaches of Goa. Located about 13km from Panaji, this uninterrupted stretch of firm sand stretches all the way to North Baga, allows visitors to take long refreshing walks at sunrise and sunsets. Here, tourists can also enjoy a variety of water sports, from parasailing, waterskiing, scuba diving, windsurfing and fishing.
Lying adjacent to the Aguada Beach, it offers magnificent views of the historical Fort Aguada. Several restaurants are located in close proximity to the beach. Besides, there are several good accommodation facilities available here, in the form of hotels and tourist resorts.
5. Vagator Beach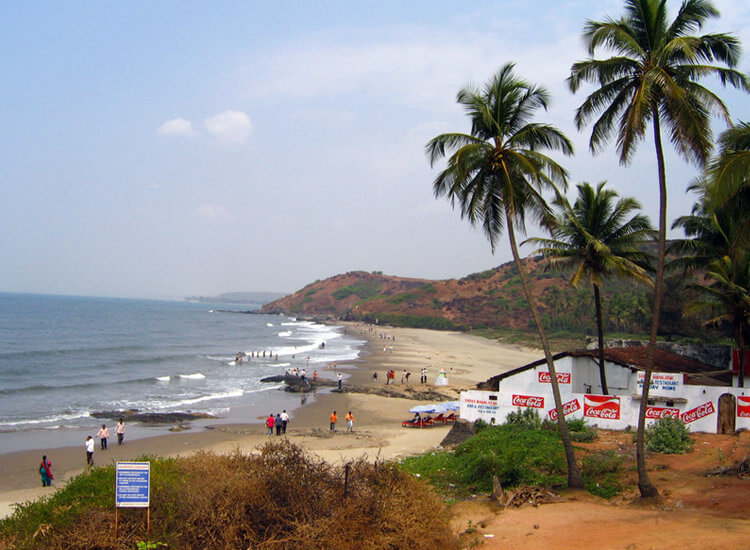 Vagator Beach, the most photographed beach of Goa, is a wonderful arc of sand located about 22km from Panaji. It's part of the 30km stretch of beach coastline along the west coast of Goa. Compared to the other beaches in North Goa, this one is relatively quiet and calm. It's the perfect place to head to for enjoying a picnic with friends and family.
A part of Vagator Beach, also known as Disco Valley, has been the scene for trance parties in Goa since the 1980's. A few open air clubs also attract a lot of visitors to the beach.