A Modak is a very famous sweet dumpling in Western, Eastern & Southern India. It is a very popular recipe in Maharashtra, Goa, Gujarat and nowadays in all parts of India during Ganesh Chaturthi festival. It is called Modak in Marathi, Oriya & Konkani & also in Gujarati language, Sughiyan in Malayalam, Modhaka & Kadubu in Kannada & Kudumu in Telugu.
Here are many varieties of Modak and Laddoo Prasad on Ganesh Chaturthi. Like………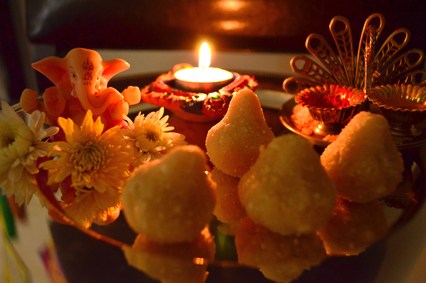 Fried Modak or Talalele Modak
Khoya Modak(Mawa Modak)
Kesar-Mawa Modak
Ukadiche Modak
Coconut Rose Modak
Fried Modak or Talalele Modak:
This is the traditional recipe that is prepared in Marathi homes. Maharashtrians prepare this modak during the Ganesh Chaturthi festival for the prasad for Lord Ganesha.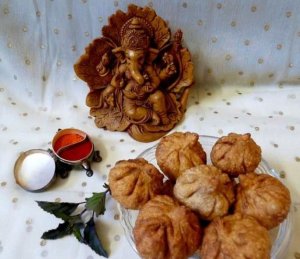 Ingredients:
For outer Covering Of Modak-
2 cup whole wheat flour (gheu ka atta)
1 cup fine rava/suji(semolina)
1 teaspoon salt
1 tablespoon warm ghee
Water to knead the dough
For Inner Stuffing-
1½ cup grated jaggery
1½ cup grated fresh coconut or dry coconut
1 teaspoon freshly crushed cardamom powder
Grounded /chopped 10 almonds and 10 cashew nuts
Refined oil or ghee to fry modak
Method:
Directions For Making Dough-
Mix all the ingredients in warm ghee, the flour & the semolina should be rubbed nicely in warm ghee add a little water, and make a stiff dough. The stiff dough will make the modak covering crunchy keep the dough aside at least for 1- 2 hours before making modak out of it. Now we prepare to stuff for modak.
Directions For Making Stuffing-
If You Are Using Fresh Coconut—
Mix all the stuffing ingredients except cashew almond powder and cardamom powder. Cook and stir the mixture on low or medium flame till the mixture is dry. Remove it from the flame and add cardamom powder and almond cashew nut powder.
If You Are Using Dry coconut—
There is no need to cook all the ingredients, just roast the grated dry coconut to make it light brown & remove it from heat let it cool crushed with its fingers and it becomes very crispy after roasting. And now add all the stuffing ingredients in it then mix it with your fingers your stuffing is ready for modak.
For Making Modak-
Divide the dough into 4 equal parts.
Take it on the backside of the big plate roll it into a 5-6 inch diameter disc apply ghee and dust little flour on it & fold it in half and again apply ghee and dust some flour on it fold it into a triangle and roll it into a little thick disc now.
Take a small kattori with nice edges and cut a small disc from this big disc in this way you can make at least 5-6 discs at a time and no need to make single puri or disc. We are folding it like paratha as we want layers in modak. Now take one disc and add 1 teaspoon of stuffing in it and gather the ends of this disc to form a dumpling(pot), bring all the edges together and close the top shape and taper the top of the modak & seal the modak properly otherwise, it will open while frying.
Make all the modak in this way.
keep them for ½ an hour before frying.
Deep fry this modak in ghee and serve them hot to Lord Ganesha.
Khoya Modak(Mawa Modak):
Modak is a very important sweet or you can say very famous bhog of Ganesh during the Ganesh Chaturthi festival. People believed that Modak is a favorite food of Lord Ganesha. People prepare different varieties of modak like Kesar mawa modak, coconut modak, fried modak, mawa modak, dry fruit modak & so on. Khoya Modak, also known as Mawa modak is a quick, easy & delicious recipe.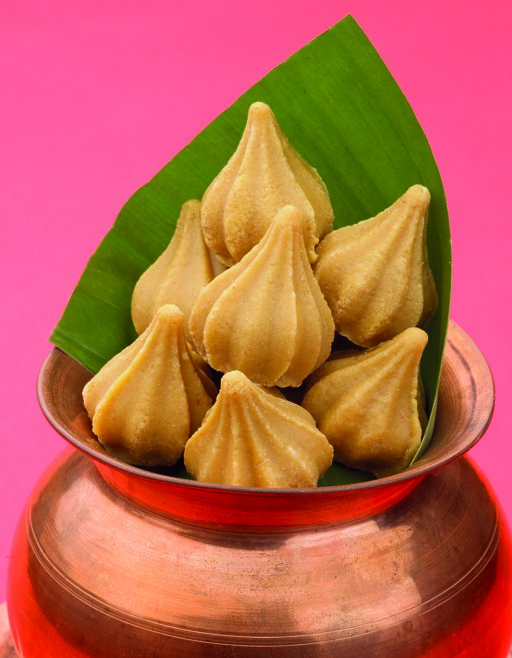 Ingredients :
1 cup khoya
1/4 cup powdered sugar
2-3 chopped almond
2-3 chopped cashew nut
2-3 chopped pistachios
1 tsp cardamom powder
1 tsp ghee
Method:
Take a pan, add khoya & roast for 2-3 mins on low flame & then switch off the gas.
Let the mawa cool for some time, now add almond, cashew nut, pistachios, cardamom powder, powdered sugar & mix well.
Take a modak mold, grease it with ghee, the stuff above the mixture in mold.
Press the mold, open it & remove modak carefully, repeat same with the rest of mixture.
Khoya Modak is ready to serve Ganesha.